POSTHARVEST QUALITY IMPROVEMENT OF NUTMEG (Myristica fragrans)
Keywords:
postharvest, quality, nutmeg, shells , storage
Abstract
Nutmeg (Myristica fragrans) or fragrant nutmeg is an important commodity that has been used in the food and pharmaceutical industries, hence its quality should be monitored. The objectives of this study were to: 1) identify Critical Control Points (CCP) in nutmeg's postharvest handling process and prepare nutmeg HACCP (Hazard Analysis and Critical Control Point) System and 2) provide a recommendation on GHP (Good Handling Practices) of nutmeg in order to maintain its quality in relation to food safety issue which is very important for international trade. Ripe fruits of nutmeg were collected after the fruits had reached maturity and fallen from their trees. A paranet was placed under each nutmeg tree to prevent the ripe nutmeg fruits from falling on the ground. The subsequent processes were taking out the nutmeg seeds from the fruits and separating the nutmeg seeds from the pulps and maces. After that, the nutmeg seeds underwent the drying process by using the smoke- and oven-dried methods until the moisture content of the nutmeg seeds was reduced by 10%. Subsequently, the nutmeg seeds were divided into two parts, prior to the storing process. The first part was fumigated by using phosphine (2 g/m3) for eight days and the second part was not fumigated. The sampling of nutmeg seeds was conducted at the beginning of storage and after four months of storage. The parameters observed were moisture content, percentage of damaged kernels, the population of each fungal species, and aflatoxin content. The results showed that moisture content, fungal population, aflatoxin B1, and total aflatoxin contents of nutmeg kernels having been dried by using the smoke- and oven-dried methods with and without fumigation still complied with the requirements related to food safety, although the nutmegs were stored for four months. The results of this research could also determine the Critical Control Point (CCP) in the postharvest handling process of nutmegs, i.e., 1) choosing only ripe nutmeg fruits to be harvested; 2) harvesting method by preventing the ripe nutmeg fruits from falling on the ground; 3) drying process of nutmeg seeds should be conducted immediately after separating the nutmegs from the maces by using the smoke- or oven-dried methods; and 4) nutmeg seeds were stored with the shells.
Downloads
Download data is not yet available.
References
Basappa SC. 2009. Aflatoxins; Formation, Analysis, and Control. New Delhi (IN): Narosa Publishing House.
CBI. Ministry of Foreign Affairs. 2015. CBI Product Factsheet: Nutmeg in Europe. The Hague (NL): CBI Market.
Childers CC, Woodruff RE. 1980. A bibliography of the coffee bean weevil Araecerus fasciculatus (Coleoptera: Anthribidae). Bull Entomol Soc America 26 (3): 384-94.
Dharmaputra OS, Ambarwati S, Retnowati I, Nurfadila N. 2015. Fungal infection and aflatoxin contamination in stored nutmeg (Myristica fragrans) kernels at various stages of delivery chain in North Sulawesi Province. BIOTROPIA 22(2): 129-39.
Dharmaputra OS, Ambarwati S, Retnowati I, Nurfadila N. 2018a. Determining appropriate postharvest handling method to minimize fungal infection and aflatoxin contamination in nutmeg (Myristica fragrans). Int Food Res J 25(2): 545-52.
Dharmaputra, OS, Sunjaya, Retnowati I, Nurfadila N. 2018b. Keanekaragaman serangga hama pala (Myristica fragrans) dan tingkat kerusakannya di penyimpanan. [Diversity of insect pest and percentage of damaged kernels in stored nutmeg (Myristica fragrans)]. Jurnal Entomologi Indonesia 15(2): 57-64.
Djaelani KI. 2018. Enam provinsi penghasil pala terbesar di Indonesia bertemu di Ternate. http:// kieraha.com/6-provinsi-penghasil-pala-terbesar-di-Indonesia-bertemu-di-Ternate [26 October 2018].
FAO. 2004. Worldwide Regulations for Mycotoxins in Food and Feed in 2003. FAO Food and Nutrition Paper 81. Rome (IT): Food and Agriculture Organization of the United Nations.
Gautam SG, Opit GP, Hosoda E. 2016. Phosphine resistance in adult and immature life stages of Tribolium castaneum (Coleoptera: Tenebrionidae) and Plodia interpunctella (Lepidoptera: Pyralidae) populations in California. J Economic Entomol:
-19. DOI: 10.1093/jee/tow/221
Haines CP. 1991. Insects and Arachnids of Tropical Stored Products: Their Biology and Identification (A Training Manual). Kent (GB): Natural Resources Institute.
Ichinoe M, Takahashi H, Ikeda N, Kanai Y, Kiraku Y. 2006. Occurrence of Aspergillus flavus and storage fungi in nutmeg. Proceedings 2nd International Symposium on Mycotoxicology. Bangkok, Thailand, 13-14 December 2006.
Mandeel QA. 2005. Fungal contamination of some imported spices. Mycopathologia 59: 291-8.
Pesavento G, Ostuni M, Calonico C, Rossi S, Capei R, Lo Nostro A. 2016. Mycotic and aflatoxin contamination in Myristica fragrans seeds (nutmeg) and Capsicum annum (chili), packed in Italy and commercialized worldwide. J Prev Med Hye 57: E102-E109.
Pitt JI, Hocking AD. 2009. Fungi and Food Spoilage. New York (US): Springer.
Punnathara CJ. 2011. Campaign launched to check aflatoxin in spices. http://www. peppertrade.com. br/vernoticia08B1G09.php?idn=2062. [6 Jun 2011].
Rees D. 2004. Insects of Stored Products. Collingwood (AU): CSIRO Publishing.
Romagnoli B, Menna V, Gruppioni N, Bergamini C. 2007. Aflatoxins in spices, aromatic herbs, herb-teas and medicinal plants marketed in Italy. Food Control 18: 697-701.
Samson RA, Houbraken J, Thrane U, Frisvad JC, Andersen B. 2010. Food and Indoor Fungi. CBS Laboratory Manual Series. Utrecht (NL): CBS-KNAW Fungal Biodiversity Centre.
SNI. 2015. Pala. SNI 0006-2015. Jakarta (ID): Badan Standardisasi Nasional.
Tabata S, Kamimura H, Ibe A, Hashimoto H, Iida M, Tamura Y, Nishima T.1993. Aflatoxin contamination in foods and foodstuffs in Tokyo: 1986-1990. J AOAC Int 76(1): 32-5.
Takahashi T. 1993. Aflatoxin contamination in nutmeg: Analysis of interfering TLC spots. J Food Sci 58: 197-8.
Toma FM, Abdulla F. 2013. Isolation and identification of fungi from spices and medicinal plants. Res J Environ Earth Sci 5(3): 131-8.
Uraih N, Ogbadu L. 1982. Influence of woodsmoke on aflatoxin production by Aspergillus flavus. European J Appl Microbiol Biotechnol 14: 51-3.
VICAM. 2007. AflaTest Instruction Manual for HPLC. Watertown (US): VICAM. p 14.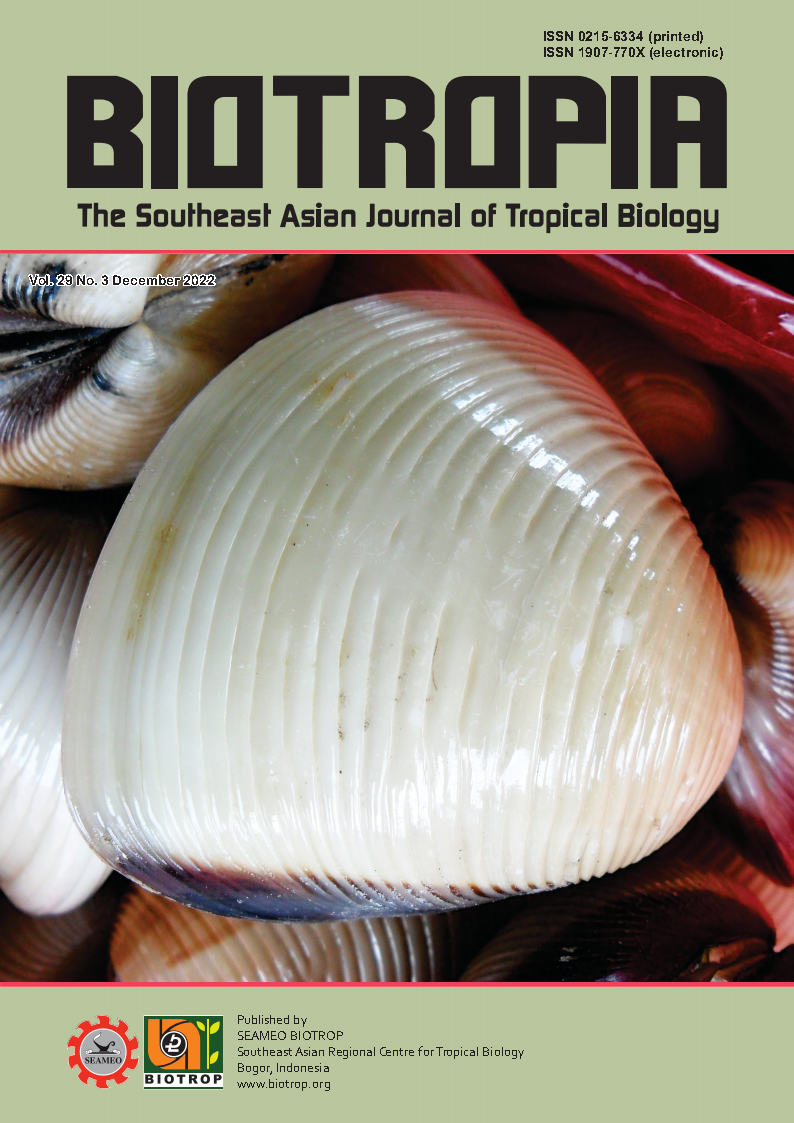 Downloads
How to Cite
Dharmaputra, O. S., Ambarwati, S., Retnowati, I., & Nurfadila, N. (2022). POSTHARVEST QUALITY IMPROVEMENT OF NUTMEG (Myristica fragrans). BIOTROPIA - The Southeast Asian Journal of Tropical Biology, 29(3), 185–192. https://doi.org/10.11598/btb.2022.29.3.1393
License
Copyright (c) 2022 Okky S. Dharmaputra, Santi Ambarwati, Ina Retnowati, Nijma Nurfadila
This work is licensed under a Creative Commons Attribution-NonCommercial-NoDerivatives 4.0 International License.
Authors who publish with this journal agree with the following terms:
Authors retain copyright and grant the journal right of first publication, with the work 1 year after publication simultaneously licensed under a Creative Commons attribution-noncommerical-noderivates 4.0 International License that allows others to share, copy and redistribute the work in any medium or format, but only where the use is for non-commercial purposes and an acknowledgement of the work's authorship and initial publication in this journal is mentioned.
Authors are able to enter into separate, additional contractual arrangements for the non-exclusive distribution of the journal's published version of the work (e.g., post it to an institutional repository or publish it in a book), with an acknowledgement of its initial publication in this journal.
Authors are permitted and encouraged to post their work online (e.g., in institutional repositories or on their website) prior to and during the submission process, as it can lead to productive exchanges, as well as earlier and greater citation of published work (See The Effect of Open Access).