BIOTROPIA, The Southeast Asian Journal of Tropical Biology, is a scientific publication of the Southeast Asian Ministers of Education Organization (SEAMEO) – Southeast Asian Regional Center for Tropical Biology (BIOTROP).  It publishes articles in the broad areas of tropical ecosystems and environmental impacts, biodiversity conservation and sustainable development and biotechnology.

Since 2012, BIOTROPIA has been indexed by SciVerse SCOPUS (Elsevier), CrossRef, DOAJ and Google Scholar.

Articles published in the journal are papers reporting results of original research, reviews on specific topics not available elsewhere in up-to-date form, and short communication in which advances in knowledge of significance are briefly announced.

Submission of paper is taken to imply that it has not been submitted to other journals and that, if accepted, will not be published elsewhere. All papers submitted for publication in BIOTROPIA are evaluated by subject matter experts and go through editorial revision. Authors may suggest names of potential reviewers. BIOTROPIA uses anonymous reviewing, in which the identities of authors and reviewers are kept confidential.
Announcements
COMPULSORY for Submission!!

Submission Declaration
Submission of an article implies that the work described has not been published previously, that it is not under consideration for publication elsewhere, that its publication is approved by all authors and tacitly or explicitly by the responsible authorities where the work was carried out, and that, if accepted, it will not be published elsewhere including electronically in the same form, in English or in any other language, without the written consent of the copyright-holder.

Corresponding/First Author should fill out the enclosed declaration form and sign it together with all the rest of the author(s) before sending to BIOTROPIA. Please note that the publication process will not be performed until the declaration form has been provided by the Author(s). The form can be accessed here.

English Language Editing Certificate
Author(s) are required to have their manuscripts edited by a professional English language editor with a certification from the same when done. This certification should be submitted to BIOTROPIA together with edited version of the manuscript. All editing costs will be borne by the author(s).

This editing of the manuscript before submission to BIOTROPIA is aimed to facilitate the review and publication processes if the content is acceptable. Author(s) may seek professional editing service either from their university or any other institution as well as online editing service. Suggested English language editing services to obtain English language certificate can be found here. Please note that the publication process will not be performed until the English language editing certificate has been provided by the Author(s).

Posted: 2017-02-01

IMPORTANT!! Revision of Author Guidelines for BIOTROPIA Journal

http://journal.biotrop.org/index.php/biotropia/about/submissions#authorGuidelines
Posted: 2017-01-23
Vol 25, No 1 (2018)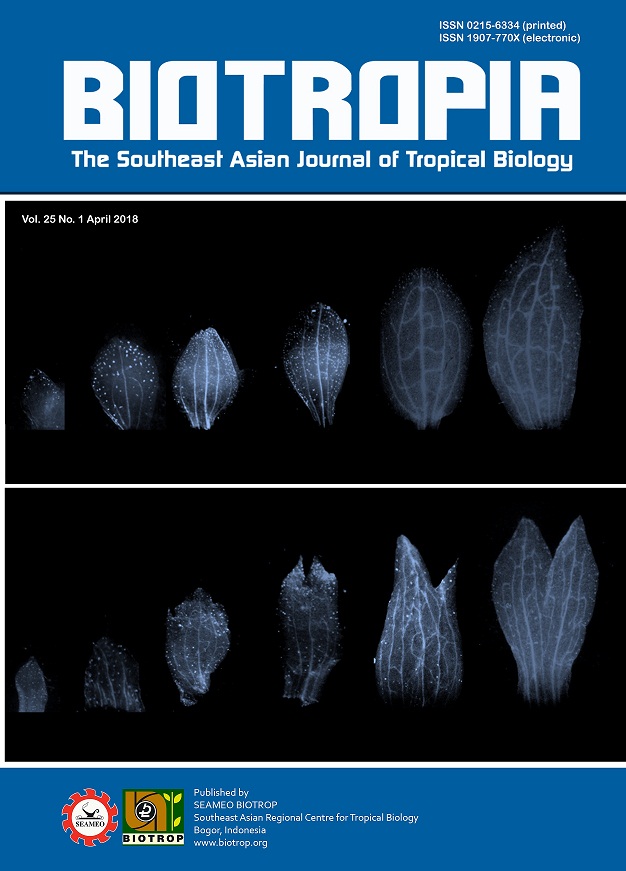 The venation patterns of Phalaenopsis amabilis (L.) Blume leaves. The photo was taken by Triono Bagus Saputro.