PRELIMINARY STUDY: FEEDING ECOLOGY AND DAILY ACTIVITY OF THREE COLORED LANGUR (Presbytis chrysomelas ssp cruciger Thomas, 1892) IN DANAU SENTARUM NATIONAL PARK
Keywords:
daily activities, feeding ecology, Presbytis chrysomelas, ranging pattern, three colored langur
Abstract
Three colored langur (Presbytis chrysomelas ssp cruciger Thomas, 1892) is a primate that has been recognized as a critically endangered species in accordance with the International Union for Conservation of Nature, however still not protected and lacks substantial information about the bio-ecology of their natural habitat. The habitat plays a determining factor not only in space utilization but also the daily activities of the three colored langurs (P c cruciger). The aim of this preliminary study is to collect information regarding their habitat characteristic, feed species, daily activity, and canopy stratum utilization. This research was conducted between July and August of 2021 at Bukit Semujan, Lupak Mawang Resort, Danau Sentarum National Park. The method implemented was to collect the habitat characteristic by plot samples, and their daily activity data by scan sampling with consecutive recording. The study demonstrated that langur inhabited both primary as well as mixed forests (swamp, cultivation land, and secondary forest). There were 27 species as feeds of langurs and the most preferred types of feed are Gita susu (Willughbeia coriacea), Merepat (unidentified), and Karet (Hevea brasiliensis). The most preferred feed compositions consisted of leaves (50%), fruits (30%), and seeds (20%). The most frequently utilized stratum for activities was stratum C (70,49%) and B (27.87%). The highest daily activities were categorized into three parts of time, the morning was dominated by social (44,26%), the afternoon was dominated by rest (59,7 7%), and the evening was dominated by social (73,68%). The highest social activities shown by three colored langurs were agonistic (48,48%), followed by vocalization (39,39%), playing (10,61%), exploring (1,52%), and sexual (0%).
Downloads
Download data is not yet available.
References
Alikodra HS. 1990. Pengelolaan Satwa Liar Jilid 1. Bogor: Institut Pertanian Bogor.
Chiarello AG. 1995. Role of loud calls in brown howlers, Alouatta fusca. American Journal of Primatology 36(3): 213-222. DOI: 10.1002/ajp.1350360305
Delgado RA. 2006. Sexual Selection in the Loud Calls of Male Primates: Signal Content and Function. International Journal of Primatology. 27(1): 5-25
Febriyanti NS. 2008. Cover Characteristic study of Ebony Leaf Monkey (Trachyphithecus auratus Geoffroy 1812) at Blok Ireng-Ireng, Bromo Tengger Semeru National Park, East Java [undergraduate thesis]. Bogor: IPB University.
Gause GF. 1934. The struggle for existence. New York: Hafner
Giovana D. 2015. Daily Behavior and Homerange of Ebony leaf monkey (T. auratus Raffles 1821) in Bama Resort Baluran National Park [Undergraduate Thesis]. Bogor: IPB University.
Hadi S, Ziegler T, Waltert M, Syamsuri F, Mühlenberg M, Hodger JK. 2012. Habitat Use and Trophic Niche Overlap of Two Sympatric Colobines, Presbytis potenziani and Simias concolor, on Siberut Island, Indonesia. International Journal Primatology. 33(1): 218-232. DOI: 10.1007/s10764-011-9567-y
Harja D and Vincént G. 2008. Spatially Explicit Individual-based Forest Simulator-User Guide and Software. World Agroforestry Centre (ICRAF) and Institut de Recherche pour le Développement (IRD).
Hepworth G, Hamilton AJ. 2001. Scan sampling and waterfowl activity budget studies: design and analysis considerations. Behavior. 138: 1391-1405. DOI: 10.1163/156853901317367654
Houle A, Vickery WL, Chapman CA. 2006. Testing mechanisms of coexistence among two species of frugivorous primates. Journal of Animal Ecology. 75(4): 1034-1044. DOI:10.1111/j.13652656. 2006.01125.x
van Hooff, J. 1973. A Structural Analysis of The Social Behavior of A Semicaptive Group of Chimpanzees. London: Academic Press
Irawan A. 2011. Daily Behaviour Activity of Male Maroon Leaf Monkey (Presbytis rubicunda) During The Day in Captivity [Undergraduate Thesis]. Bogor: IPB University.
Leighton M, Leighton DR. 1983. Vertebrate Responses to Fruiting Seasonality within a Bornean Rain Forest. Tropical Rain Forest: Ecologycal and Management. 39(4): 485-503.
Ministry of Forestry and Environmental [KLHK]. 2014. Zonation of Danau Sentarum National Park. Putussibau.
Mitchell AH. 1994. Ecology of Hose's langur, Presbytis hosei, in mixed logged and unlogged dipterocarp forest of north Borneo [tesis]. New Haven (US): Yale University.
Musyaffa MEF, Santoso N. 2020. Habitat Characteristics and Activity Patterns of Cross-marked Langur (Presbytis chrysomelas cruciger) in Danau Sentarum Nasional Park. Journal Penelitian Hutan dan Konservasi Alam. 17(2): 155-172. DOI: 10.20886/ jphka.2020.17.2.155-172
Napier JR, Napier, PH. 1967. A handbook of living primates: morphology, ecology and behaviour of nonhuman primates. London: Academic Press.
Napier JR, Napier PH. 1985. The Natural History of the Primates. Massachusetts: MIT Press.
Nijman V, Cheyne S, Traeholt C, Setiawan A. 2020. Presbytis chrysomelas ssp. chrysomelas. The IUCN Red List of Threatened Species 2020: e.T136857A17987458. DOI: 10.2305/ IUCN.UK.2020-2.RLTS.T136857A17987458.en
Nursal WI. 2001. Daily activity of Javan langur (Trachypithecus auratus, Geoffroy 1812) at Selabintana Pos in Gunung Gede Pangrango National Park, West Java [Undergraduate Thesis]. Bogor: IPB University.
Oktaviani R. 2009. Study of Calling Behavior in Javan Gibbon (Hylobates moloch Audebert, 1798) at Gunung Halimun Salak National Park, Province of West Java [Undergraduate Thesis]. Bogor: IPB University.
Parmadi EH, Dewiyanti I, Karina S. 2016. Important Index Values of Mangrove in Kuala Idi, East Aceh Regency. Jurnal Ilmiah Mahasiswa Kelautan dan Perikanan Unsyiah. 1(1): 82-95
Zulfahri MR, Pohan SD. 2016. Analysis of Orangutan feed (Pongo abeli) at Resort Sei Betung Sumatra Utara, Gunung Leuser National Park. Jurnal Biosains. 2(2): 97-103. DOI: 10.24114/ jbio.v2i2.4222
Prayogo H. 2006. Study on behavior and food analysis of silver leaf monkey (Trachypithecus cristatus) at Schmutzer Primate Center, Ragunan Zoological Gardent [Magister Thesis]. Bogor: IPB University.
Putri KP, Sudrajat DJ. 2017. Regeneration of Shorea spp. in the Seed Sources of KHDTK Haurbentes. Bogor District. Jurnal Perbenihan Tanaman Hutan. 5(2): 71-79. DOI: 10.20886/bptpth.2017.5.2.71-79
Rifqi MA, Pambudi T, Khotiem M, Gesshaa AA. 2019. Bornean banded langur Presbytis chrysomelas cruciger in Danau Sentarum National Park, West Kalimantan, Indonesia. Southeast Asia Vertebrate Records. 56-59
Riley EP. 2005. The Loud Call of the Sulawesi Tonkean Macaque, Macaca tonkeana. Tropical Biodiversity. 8(3): 199-209.
Roslinda E. 2013. Management policy options of Danau Sentarum National Park West Kalimantan Province [Magister Thesis]. Bogor: IPB University.
Ruhiyat Y. 1983. Socio-ecological study of Presbytis aygula in west Java. Primates. 24(3): 344-359. https:// psycnet.apa.org/doi/10.1007/BF02381980
Sajuthi D, Astuti DA, Perwitasari D, Iskandar E, Sulistiawati E, Suparto IH, Kyes RC. 2016. Primate Display Model: Macaca fascicularis (Study on Population, Behaviour, Status Nutrient, and Nutrient for Deseases Model). Bogor: IPB Press http://repository.ipb.ac.id/handle/123456789/81590
Schoener TW. 1974. Resource partitioning in ecological communities. Science. 185(4145): 27-39. DOI: 10.1126/science.185.4145.27
Setiawan I. 2002. Sexual behavior of long-tailed macaque (Macaca fascicularis) on makam keramat Solear, Tangerang. [undergraduate thesis]. Bogor: IPB University.
Shankar U. 2001. A case of high tree diversity in Sal (Shorea robusta) dominated lowland forest of eastern Himalaya: Floristic composition, regeneration dan conservation. Current science. 81(7): 776-786.
Singh M, Royi K, Singg M. 2011. Resource partitioning in sympatric langurs and macaques in tropical rainforests of the central Western Ghats, South India. American Journal of Primatology. 73(4): 335-346. DOI: 10.1002/ajp.20900
Soerianegara I, Indrawan A. 1988. Ekologi Hutan Indonesia. Bogor: Departemen Manajemen Hutan Fakultas Kehutanan IPB.
Spinka M, Newberry RC, Bekoff M. 2001. Mammalian play: training for the unexpected. The Quarterly Review of Biology. 76(2): 141-68. DOI: 10.1086/393866
Sumarni S. 2016. Study on feed species of kelasi (Presbytis rubicunda) at forest tourism areas in Baning, Sintang Regency. Piper. 23(12): 115-124. DOI: 10.51826/ piper.v12i23.25
Syamsunarno MB, Sunarno MTD. 2019. Study on Rubber Seed Hevea brasiliensis as A Candidat of Fish Feed Ingradient. Jurnal Ilmu Pertanian dan Perikanan. 3(2): 135-142. http://umbidharma.org/jipp
Tokeshi M. 1999. Species coexistence: Ecological and evolutionary perspectives. Oxford: Blackwell Science.
Violita CY, Setiawan A, Rustiati EL. 2015. Simpai (Presbytis melalophos) group size in a forest of cugung village of protection forest management unit model of rajabasa mountain south lampung. Jurnal Sylva Lestari. 3(3): 11-18. DOI: 10.23960/ jsl3311-18
Watanabe K. 1981. Variations in group composition and population density of the two sympatric Mentawaian leaf-monkeys. Primates. 22: 145-160. DOI: 10.1007/BF02382606
Wich SA, Assink PR, Becher F, Sterck EHM. 2002. Playbacks of loud calls to wild Thomas langurs (Presbytis thomasi): the effect of familiarity. Behaviour. 139(1): 79-87. DOI: 10.1163/ 15685390252902292
Wich SA, Nunn CL. 2002. Do male "long-distance calls" function in mate defense? A comparative study of long-distance calls in primates. Behavioral Ecology and Sociobiology. 52(6): 474-484. DOI: 10.1007/s00265-002-0541-8
Wich SA, Koski S, de Vries H, van Schaik CP. 2003b. Individual and Contextual Variation in Thomas Langur Male Loud Calls. Ethology. 109(1): 1-13. DOI: 10.1046/j.1439-0310.2003.00837.x
Zamma K. 2002. Grooming site preferences determined by lice infection among Japanese macaques in Arashiyama. Primates. 43(1): 41-49. DOI: 10.1007/bf02629575
Zanuansyah A. 2013. Locomotion Behavior and Posture of Javan Gibbon (Hylobates moloch Audebert, 1798) in Gunung Halimun Salak National Park [Undergraduate Thesis]. Bogor: IPB University.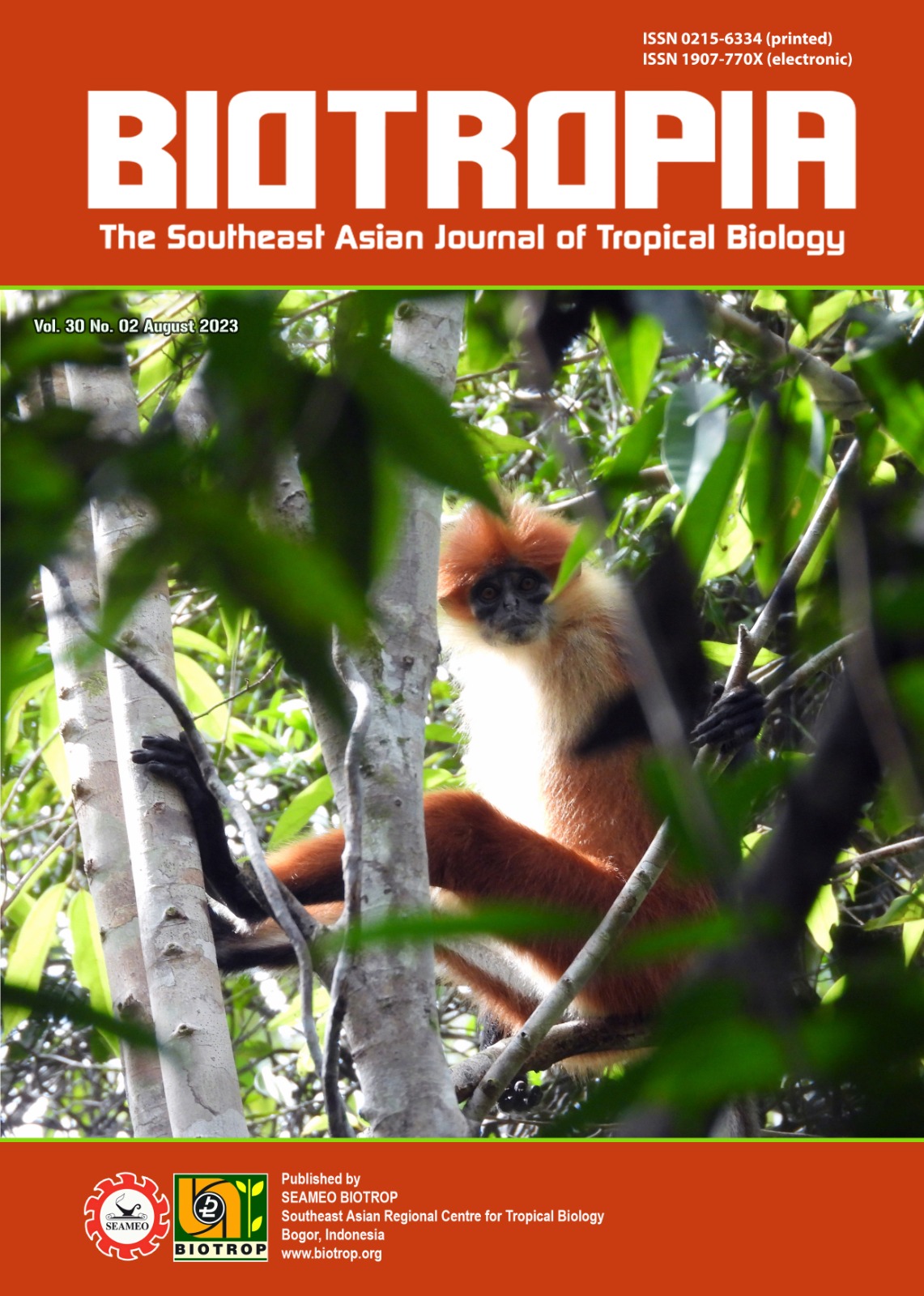 How to Cite
Santoso, N., & Sutopo. (2023). PRELIMINARY STUDY: FEEDING ECOLOGY AND DAILY ACTIVITY OF THREE COLORED LANGUR (Presbytis chrysomelas ssp cruciger Thomas, 1892) IN DANAU SENTARUM NATIONAL PARK. BIOTROPIA - The Southeast Asian Journal of Tropical Biology, 30(2), 206–219. https://doi.org/10.11598/btb.2023.30.2.1850
License
Copyright (c) 2023 Nyoto Santoso, Sutopo
This work is licensed under a Creative Commons Attribution-NonCommercial-NoDerivatives 4.0 International License.
Authors who publish with this journal agree with the following terms:
Authors retain copyright and grant the journal right of first publication, with the work 1 year after publication simultaneously licensed under a Creative Commons attribution-noncommerical-noderivates 4.0 International License that allows others to share, copy and redistribute the work in any medium or format, but only where the use is for non-commercial purposes and an acknowledgement of the work's authorship and initial publication in this journal is mentioned.
Authors are able to enter into separate, additional contractual arrangements for the non-exclusive distribution of the journal's published version of the work (e.g., post it to an institutional repository or publish it in a book), with an acknowledgement of its initial publication in this journal.
Authors are permitted and encouraged to post their work online (e.g., in institutional repositories or on their website) prior to and during the submission process, as it can lead to productive exchanges, as well as earlier and greater citation of published work (See The Effect of Open Access).